Welcome from the
Huntley & Palmer Allotment Association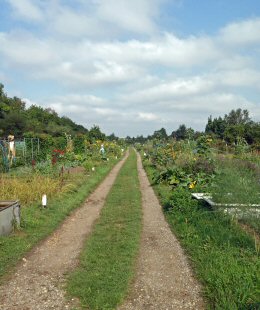 The Huntley and Palmer Allotment Association (HAPAA) is based around the Earley Town Council allotment site off Culver Lane, Earley, on the borders of Reading. The association was originally formed to give social and allotmenteering help to plot holders. More recently the association took over the running of the Trading Shed (previously Huntley and Palmer Horticultural Society) and now offers social gatherings, allotment help and information plus a Trading Shed to its members. Newcomers to the allotment fraternity can also ask for help and advice from more established plot-holders.
There is a regular by newsletter with information, tips, menus, and an annual end-of-season barbecue, with informal competitions for fruit, vegetables, jams & chutneys, not to mention cakes - all grown on the allotments or made from allotment produce. There is also a "Best Plot" and "Most Improved Plot" competition each year which is judged by the Earley Town Council Amenities & Leisure Committee; prizes are awarded by the Allotment Association.
The Trading Shed is where members can buy a range of goods for the successful tending of their allotments and gardens. Membership is open to anyone, not just allotment holders. As well as supplying seeds, compost, seed trays, fertilisers etc we supply bulbs and seed potatoes in season.