Shed Sales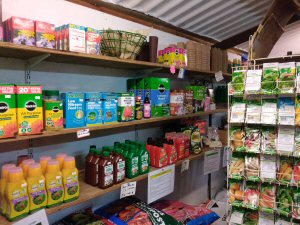 The Shed is a great place to buy essentials for your allotment or garden, at competitive prices. We stock a wide range of compost, packaged manures, fertilisers and canes. We also sell onion sets and many types of garlic, seed potatoes in January, and bulbs for autumn planting. Our Suttons Seeds flower and vegetable seeds are sold at a 25% discount in The Shed or 35% plus £1.99 p&p if you order yourself, using our Order Code. Have a look at the full stock lists. The Shed is also a good place for advice and a chat about gardening matters.
The Shed is open on Saturday and Sunday mornings from 10am to 12:30pm; we are closed all December, only open for one morning during August, but evening opening happens in spring on Wednesdays. The Shed is run by volunteers, and we are always looking for new helpers.
You need to be a member of the Association to buy in The Shed. Membership is open to everyone, and costs just £1.50 per year. Just roll up and join. Payment is by bank card only.
We also have a selection of home-made marmalades and chutneys (all proceeds to charity) and can put you into contact with a supplier of manure for your plot.
Covid Considerations
Normal operation of the Shed is necessarily disrupted by Covid-19. We are returning to the traditional shop operation at the Trading Shed from Saturday 6th February 2021. As last September we will have a number of Covid secure measures to keep both members and volunteers safe:
Please wear a mask whilst in the shed and use our hand sanitiser on the way in
We will allow in one household at a time, to select and pay for their purchases
Payment will continue to be card only (no cash).
In this way we can serve you and keep everyone safe.
If you wish to buy materials by the meter such as Phormisol, bubble wrap or fleece we need a couple of days notice as this needs two people from the same household to measure it out. Please drop us an email and we will let you know when it will be ready to collect.
Depending on demand and resources, we will always try to meet the demand.